Four Paws Pet Care specializes in dog walking, dog playgroups, pet sitting, house sitting, pet transportation, bathing and other pet care services in Newton, Massachusetts. We happily provide the best, most reliable and professional pet care in Newton.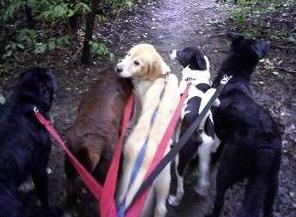 E-mail us: contact@4pawsnewton.com
Call us: (617) 233-2726 and (978) 844-4921
We are fully LICENSED and INSURED. We are insured by Pet Sitters Associates.
We are also CERTIFIED in Pet First Aid & CPR by the American Red Cross.
WHAT'S NEW:
Best Dog Walkers
in Newton

2018
January 25, 2018: Expertise.com has selected us, Four Paws Pet Care, as one of the Top 12 Best Dog Walkers in Newton! We were vetted amongst 32 other businesses in the area. Click on the badge above to learn more. We are so grateful that Expertise.com has featured us and given us recognition! Thank you to our clients for supporting us throughout the years. We would have never been able to do it without you!
October 18, 2017: October is officially Adopt-a-Dog Month. If you're thinking about an addition to your family, please consider adopting a puppy or dog from a shelter or rescue. American Humane and ASPCA both have October designated as "Adopt-a-dog" month. Links:
American Humane: Rescue Initiative--Adopt-a-Dog Month
ASPCA: Celebrate Adopt a Shelter Dog Month By Finding Your 'Fido'
AVMA October 2017 Events
September 1, 2016: Check out our latest Facebook updates about the dogs, cats and small animals we have recently and/or regularly taken care of. Link:
FB update September 2016
March 18, 2015: We are now on Pet Sitter Directory! Check our page out! See below for link:
Four Paws Pet Care on Pet Sitter Directory
April 6, 2014: Happy Spring! It can get really rainy and muddy this time of year. Does your pup need a bath? Let us do the work! Spring is also a great time to get your dog some exercise with our friendly dog playgroups! Please click on "Services" to find out more.
August 21, 2013: Visit our regularly updated Facebook page and YouTube Channel containing a multitude of pictures and videos of your precious pets! There are photos and videos of our daily dog playgroups where pups get to socialize, exercise and get their energy out as well as their business done. Please visit our Facebook page and YouTube channel at:
Four Paws Pet Care's FB Page
Four Paws Pet Care's YouTube Channel
July 30, 2012: New dog nutrition and diet article written by Nancy (credited as "Team PetCareRx") and published on PetCareRx.com. The article contains useful information that may apply to the nutrition and diet of all breeds, including your own pup (not just French bulldogs). Please click the following link to read the article:
Feeding Your French Bulldog a Balanced Diet
March 21, 2012: Photo slide show has been updated. Check it out!
March 1, 2012: We now offer grooming runs for your dog! We can pick up and/or drop off your pet and bathe (wash and dry) your dog ourselves or we can bring your pet to and from your preferred groomer. Please check our Services section for more details.
February 4, 2012: We supported Great Dog Rescue New England's (GDRNE) fundraiser dinner on February 4th, 2012 by donating dog walking and pet care packages to the silent auction that was held. Click the logo below to find out more about GDRNE's dedication to rescuing animals.